Seerah: The Shepherds Path
Sheikh Muhammad Alshareef
October 31 - November 2 & 8-9, 2008
Fridays: 7pm-10pm
Sat & Sun: 10am-7pm
Westgate Hill Street, Bradford, UK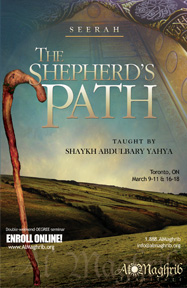 If you took an epic journey into the life of a man who transformed humanity, what would you discover?
What would you unquestionably miss if you did not?
Muhammad is not the father of any of you; He is the Messenger of Allah and the seal of the Prophets – Qur'an
"If there was no miracle except the Seerah of the Prophet, sal Allahu alayhi wa sallam, then it would suffice as the greatest miracle!" - Ibn Hajar
Dear Student of Knowledge,
If you have yearned to cultivate your relationship with Allah's Messenger, cry tears of love and spend two weekends with hundreds of students of knowledge doing all the above, then this might be the most important letter you'll ever read.
Here's why:
We all know Seerah classes have been taught far and wide, and CD's are available. They happen, however, over a period of 8 weeks or 8 months, or you listen in your car on a long vacation drive. Everyday life gets in the way and the beauty of hearing the entire story and its lessons gets interrupted.
Seerah - The Shepherds Path is unlike any Seerah class that has been taught. No where else will in your city can you spend TWO full EmanRush WEEKENDS learning to love Allah's Messenger. No where else will you get the chance to forget your surroundings all weekend long and immerse yourself back to the cave of Hira 5 minutes before Angel Jibreel began the revelation. No where else will you feel the energy that is created when hundreds of Muslim students come together in one classroom.
"None of you believes until I am dearer to him than
his own father, his child, and all of mankind."
– Muhammad, sal Allahu alayhi wa sallam
This is not a seminar … this is an event in your city's history. The two weekends when your city gathered together to experience the Messenger of Allah's Seerah, sal Allahu alayhi wa sallam.
Let me give you two good reasons why this Seerah seminar will over-exceed your expectations:
Three Reasons To Believe What We Are Saying
Reason one: Our instructors are captivating narrators! They have the ability to connect the audience with the story at hand, allowing students to journey and re-live each incident with the messenger of Allah SalAllahu Alayhi Wa sallam.
Reason two: Our instructors have studied the life of the Prophet sal Allahu alayhi wa sallam INDEPTH from some of the greatest scholars of our time in the City of the Prophet, Madinah al-Munawarrah!
Here is a summary of the benefits you receive
1) You will cry tears of happiness, GUARANTEED
... this is the life of Allah's Messenger. He is our Prophet!
2) You will be inspired to emulate the life of Muhammad
... your marriage life, your business life, your school life ... in every aspect you have the best example in Allah's Messenger
3) You will hear the authentic stories from a native English speaker ...
... no need to fry your brain trying to understand what the speaker just said
4) The day will end before it began because you will be so enthralled ...
... you'll get to learn the Prophet's life without having to painfully exhaust yourself mentally
5) You will truly understand what the commotion is all about with the Danish cartoons...
... be able to answer non-Muslims when they ask you, 'What's all the fuss about?'
6) Be able to recall the entire Seerah start to end ...
... every parent has to be able to teach the Seerah to their children or siblings; even if you are not married and do not have children, you know this will look good on your matrimonial application.
7) The more you know the Prophet, the more you will love him
... how valuable would it be for you to love the Prophet even more?
8 ) Surround yourself with hundreds of students of knowledge like yourself
... ask any AlMaghrib student, there is no atmosphere of studying more awesome then an AlMaghrib atmosphere. It rocks! Hands down.
Now, you're probably wondering how and why we can do all those things.
Let me explain.
You will journey with our instructor as he takes you back to the time of the Prophet, sal Allahu alayhi wa sallam…
Beginning with the monumental conquest of Makkah, you will work your way backwards to see how the Prophet and his companions got to that victory.
You will hear story after story of what the Prophet went through in order to establish the oneness of Allah and his Prophethood in the hearts of people.
You will interact with the lessons and morals of the stories, opening your mind and heart to see the deeper picture.
You will feel a fuzzy warm feeling in your heart and with the tears slipping down your cheeks as you relive the struggles that he and his companions endured ... so that you could have Islam today!
You don't have to decide now if this seminar is for you. Just register and try it out. If it doesn't give everything that we promised, if you don't feel like you've benefited, or if you don't absolutely love it for whatever reason, just let AlMaghrib know and we'll give you every cent of your tuition back! So you have nothing to lose and everything to gain.
Here's how to register right now!
To lock in your seat and give Shaytan a black eye by signing up for Seerah: The Shepherd's Path, just click the link below
CLICK HERE TO REGISTER RIGHT NOW!
To your success in this life and the next,
AlMaghrib Institute
P.S. At this point, Shaytaan will come to you with a dozen reasons why you don't have the time or money to attend. Let's be honest, is there anything beneficial that a Muslim does that Shaytaan does not wish to stop? Just ask yourself this question, "Who benefits when you miss a seminar like this?"
P.P.S. When students register early for a seminar, it gives the volunteer crew time to prepare to serve YOU, rather then exhausting their effort on marketing. You will win by making the study of Islam successful in your city! Get registered up.