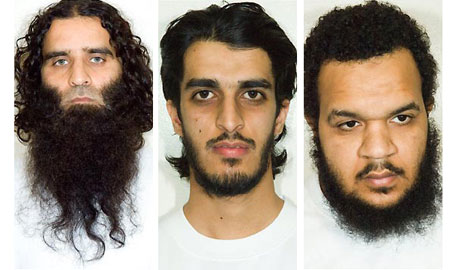 Ali Beheshti, 40, along with Abrar Mirza, 22, have admitted conspiracy to recklessly damage property and endanger life after they poured diesel through the letterbox of a publishing house in Islington, North London.
Abbas Taj, 30, a mini-cab driver, was found guilty at Croydon Crown court of conspiracy to firebomb the home of Martin Rynja, the publisher of The Jewel Of Medina.
The three men began their attack when publisher Mr Rynja was preparing to release The Jewel Of Medina, a novel about Mohammed and the life of his child bride, Aisha.
The trio were planning to spend the night at Regent's Park Mosque, in North London, as part of the Muslim holy month of Ramadan, but shortly after arrival they set out with "fire-making equipment" for the home of Mr Rynja.
Diesel bought by Beheshti, from Ilford, East London, stored in a green container inside a white plastic bag, was transferred to the boot of Taj's Honda Accord at around 10.30pm, the evening before the arson attack.
Taj and Beheshti then drove to pick up Mirza, a mobile phone salesman, from near the Queen's Road Mosque in Walthamstow, northeast London.
They then drove to their target at 2am.
But while Taj claimed to have "no idea" about the plot and said that he was simply "giving a lift" to the two men, a jury of eight women and four men found otherwise.